Beginning February 1st, Google and Yahoo inboxes will be implementing stricter requirements for what type of mail they accept. Please review and re-verify your sender authentication to ensure it contains valid SPF and DKIM records as well as a DMARC policy such as v=DMARC1; p=none or stricter. Consult your IT department for the DMARC configuration that best meet your needs.
The Send Email tool in the browser allows users to build and save messages, choose dynamic, configurable profile lists as recipients, and track analytics on their communications. To access this tool, go to Communications > Send Email (web).
Write Your Message
Begin by entering the Subject of your email. If you want to start with a template, select the template from the dropdown to populate the Message.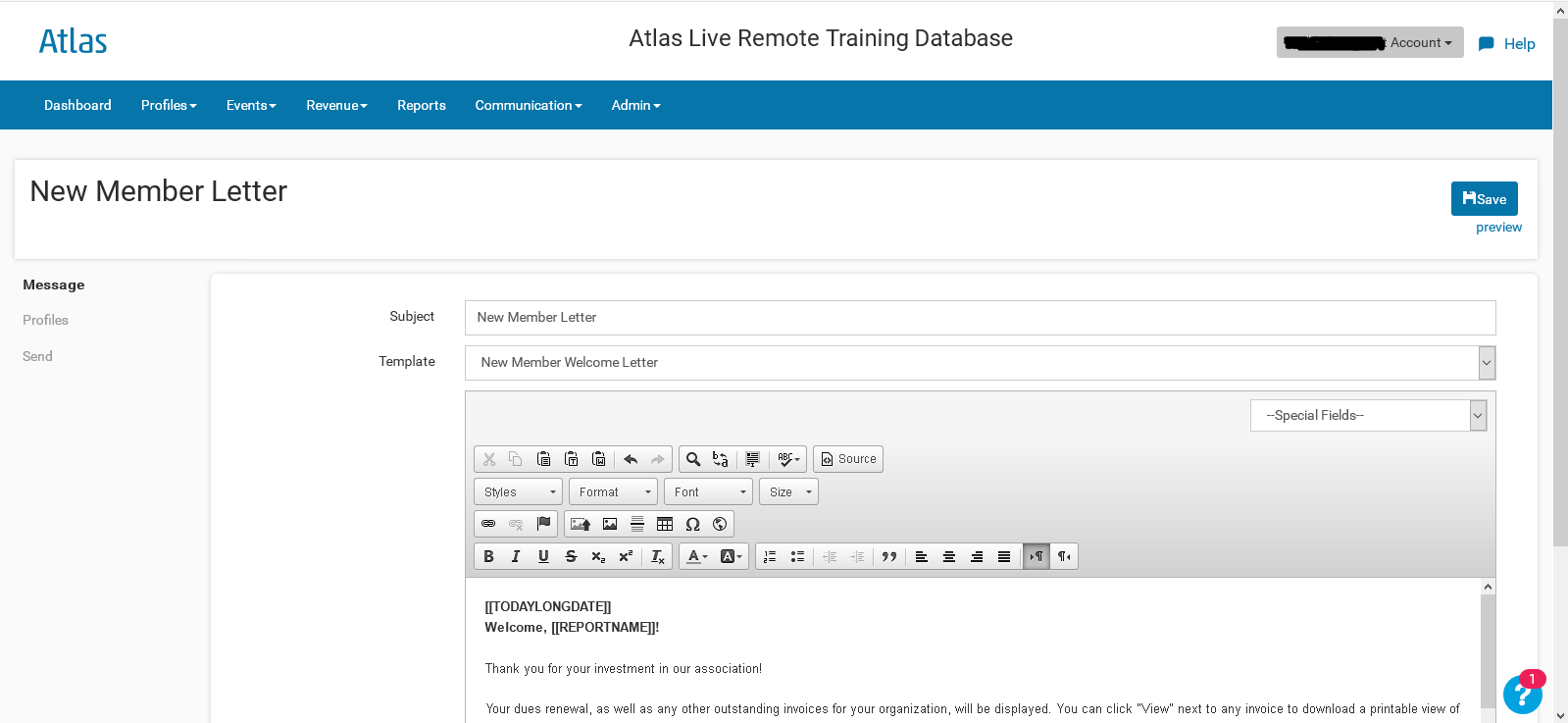 Compose your message, either from scratch or from a template of your choosing. Please note that pasting text you've copied from elsewhere (particularly Microsoft Outlook or other Microsoft programs) is not recommended for optimal HTML emails - instead, use the Plain Text paste option in the toolbar:

or paste directly into the source of the email:

To include images in your email, click the image upload button (

) to launch the MC Trade Image Selector. In this tool, you can either select images you've already uploaded to your system as web content records or other media, or you can upload new images. Click the dropdown to choose the Upload option. When you select an image, it will be placed into your message in the location of your cursor.
As with all emails, be sure to keep image sizes small! Uploading an extremely large image and then "squishing" it down to fit in the window does not affect file size. To improve deliverability, keep image file sizes as small as possible (under 200 KB recommended).
Special Fields
To include Profile database fields dynamically in your email, use the Special Fields dropdown in the upper right corner of the editor. These fields will populate from the profiles you select on the next tab (Profiles).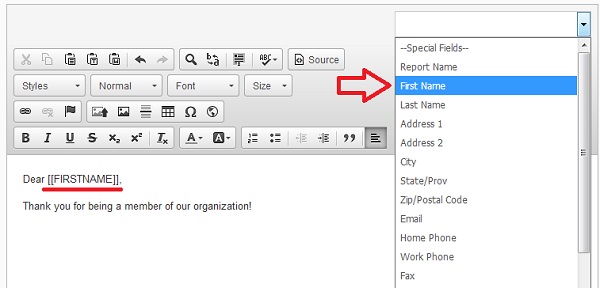 These fields will NOT populate with anything if you add manual emails to your recipient list. Note that even if you use one of the available settings to update the email address to whom the message is delivered (e.g. Billing Contact), the dynamic fields will still populate with the select profile from your search.
Save Draft
Note that an any point as you compose your message, you can click the Save button in the upper right corner to save a draft. The message contents, any recipient lists/searches you have selected (in the next section), and all settings will be saved. You can retrieve your draft at any time by going to Communication > Message Admin.
Select Recipients
On the Profiles tab, enter the From name and email, and select who the email is going "To." There are three options for selecting the recipients to receive the communication - building a custom search in the Profile Selector, selecting a pre-existing Common Data View, or manually entering email addresses.
To build a recipient list in the Profile Selector, choose Create New List in Profile Selector. In the window that opens, use any of the tabs on the left of the screen to build your search (click here for more information). Once your search includes all of the profiles you want to email, click Email List. (You'll be able to remove exceptions in the next grid).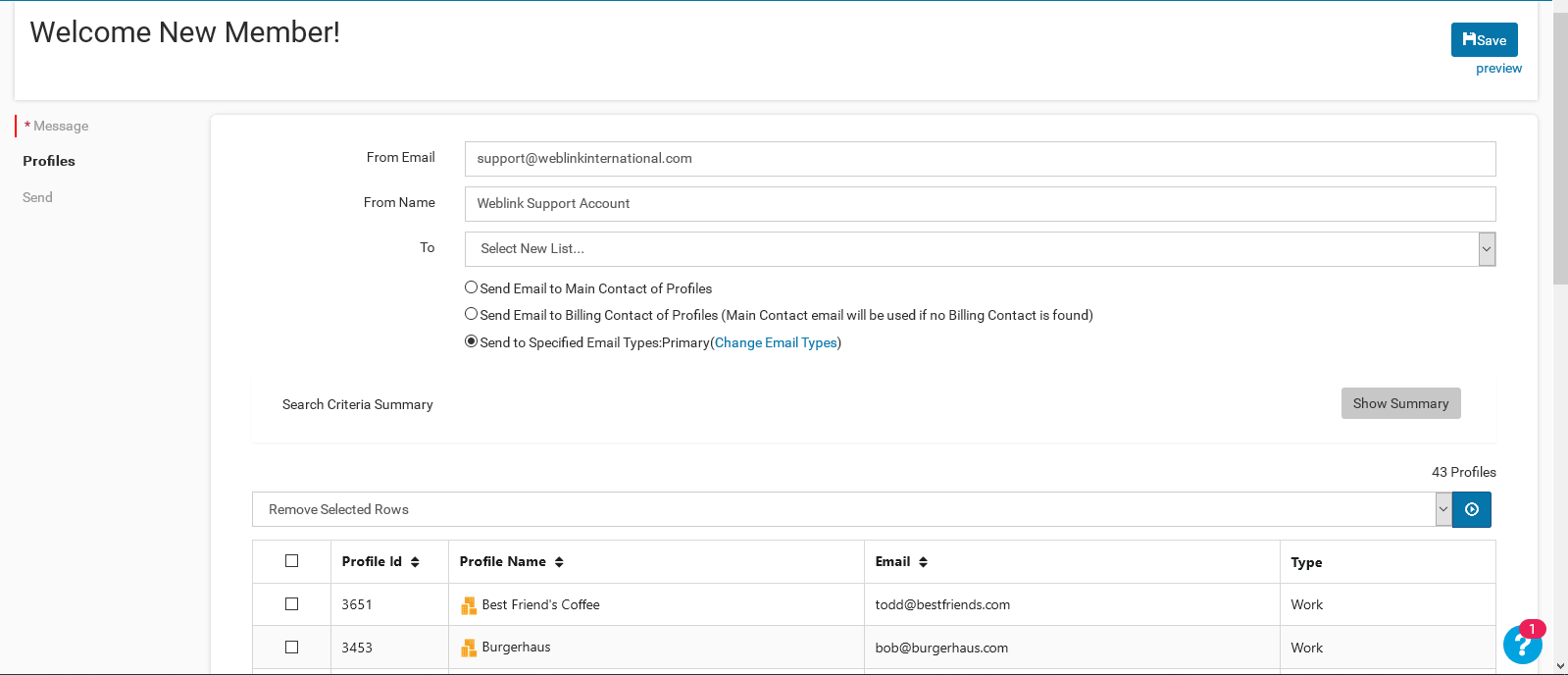 To use a pre-determined search, click Select Common Data Views and choose the search from the list. To add manual email addresses, click Add Manual Email and add as many additional emails as necessary (this is a good way to CC coworkers) - note that the communication will not be linked to a profile using the manual email tool.
Recipient Settings
Send Email to Main Contact of Profiles: the email will be delivered to the address listed in the Main Contact related to the profile displayed in the grid. If there is no Main Contact or if the Main Contact has no email, the displayed profile's email will be used.

Only send to Main Contact if Profile Email is blank: check this box if you ONLY want to replace the profiles that do not have an email address. All other profiles displayed will use their default email, NOT the Main Contact email.

Send Email to Billing Contact of Profiles: the email will be delivered to the address listed in the Billing Contact related to the profile in the grid. If that profile has no Billing Contact, the Main Contact's email will be used instead. If there is no Main OR Billing contact (or they do not have email addresses), the displayed profile's email will be used.

Only send to Billing Contact if Profile Email is blank: check this box if you ONLY want to replace the profiles that do not have an email address. All other profiles displayed will use their default email, NOT the Billing/Main Contact email.

Send to Specified Email Types: Select this option to send to additional email address types on the Email tab of profiles. This setting enables you to copy multiple people on emails, like admin assistants for CEOs, if the admin assistant's email is on the CEO's profile as an additional email.
Send Settings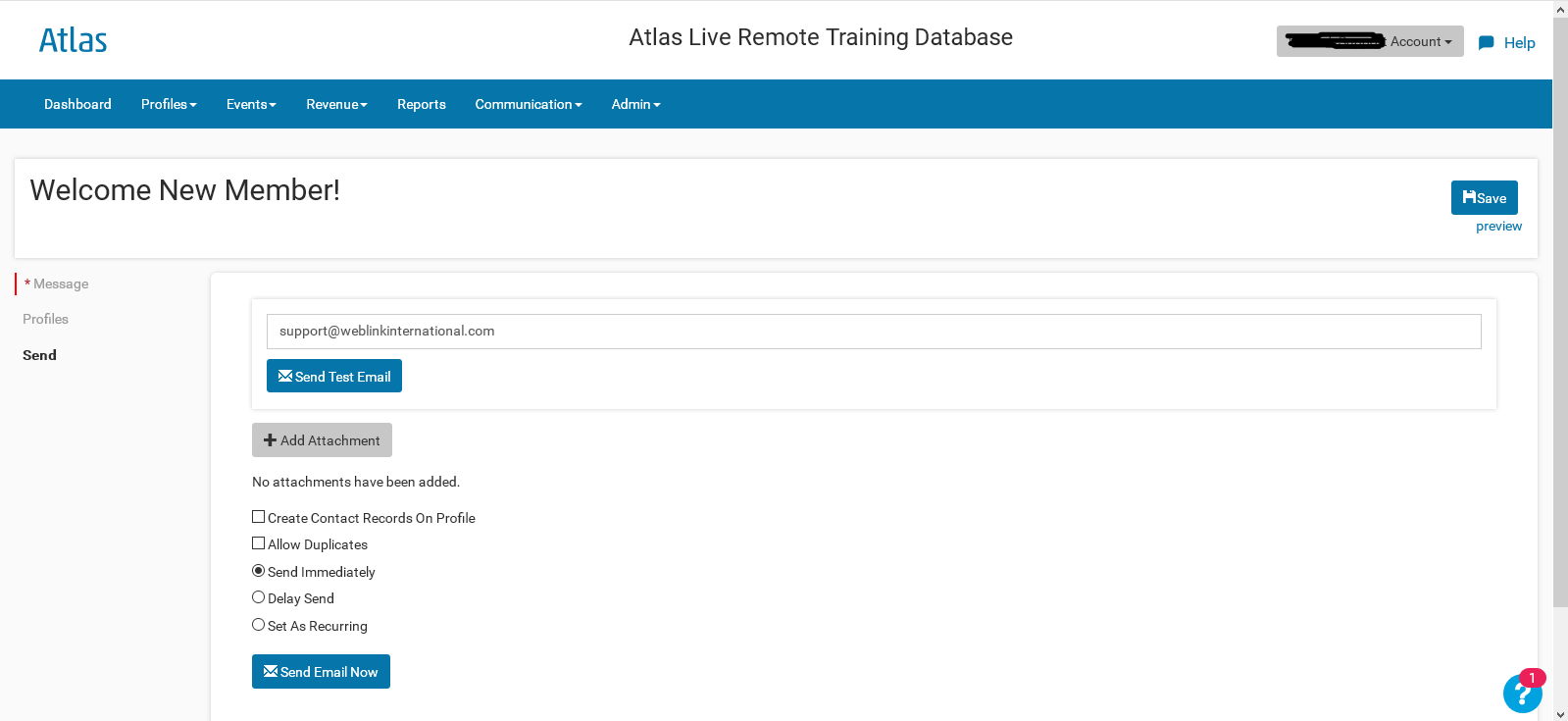 The first thing you'll see on the Send tab is your "from" email address, and a button to send a test email to this address. The test email will populate with a random profile if there are any special fields, and will render all HTML, but will not include attachments until you hit send.
Attachments
If you would like to add attachments to the email, click Add Attachment. Select a Content Type (your attachment will be uploaded as a Web Content record), and then click Choose to select one or more files from your local drives.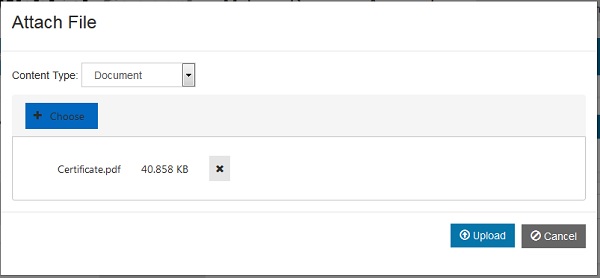 Note that attachments in large mass emails are not a best practice, as they can be flagged as spam or stripped before hitting an inbox. Try to limit attachments to smaller, focused email lists and keep the file size as small as possible. MC Trade will allow you to upload files up to a total of 4 MB, but keeping it much smaller is highly recommended (1 MB or less).
Once you have added all files, click the Upload button.
Contacts
To create Contact records on each of the profiles in the recipient lists, check the box for Create Contact Records on Profile. This will enable a dropdown of your organization's Contact Types, and you can select the Type you want to use for each Contact that is created. The Contact is saved to the profile in the To field, and uses the email Subject line for the Contact Title and the Message for the Contact Description.

Delayed Send
When you are finished with your message and recipient list of profiles, if you want to add your message to the queue to be sent at a later date/time, click Delay Send. Choose the date and time that the email will be sent (the default time will be your computer's local time zone).

If you select a future date/time to send the message, then click Send Email, your message will be available in the "Scheduled" section of the Message Admin screen. Note that after you schedule the email, you may NOT edit the message or recipients. You can cancel the message, but it cannot be changed once you click Send Email.
Allow Duplicates
There are sometimes cases in MC Trade in which two profiles have the same email address, and both are pulled in to a search when populating your recipient list. By default, each email address will receive only ONE copy of the message you are sending. However, if for some reason you would like multiple emails delivered to the same address (usually to populate dynamic fields from different profiles), check Allow Duplicates.

Special Field Alternate Values
If you have used any Special Fields (dynamic profile field values) in the body of your message, you will see them appear above the Send Email button with a space to enter alternate values. These values will be populated if the profile field is blank for any profile. Note that these alternate values will NOT be used for manual emails, or in cases where a field does not exist at all for a profile.

Send Email
When your message, list of recipient profiles, and all email settings have been completed, you can click Send Email to queue your email to the MC Trade Mass Communicator email service. Note that this is a shared email service, and like all mass email tools the message will be delivered over a period of time that may take anywhere from a few seconds to a few hours, depending on the volume currently on the service and the number of trackable links in the message of your email.
As soon as you click Send Email, your message will appear in the Communication > Message Admin section immediately. If it has not finished sending all emails yet, it will appear in the "Scheduled" tab. If all emails have been sent, you will find it in the "Sent" tab, with an option to view open and click-through analytics. Click here to learn more about message analytics.
Watch a Training Video: