Your Members Only area is a powerful self-service area where any Profile in your MC Trade system can manage their own relationship with you. Below is a description of the primary functions of your Members Only area. Make sure you communicate the benefits of these tools to all your members; it will save you lots of time and effort. Click here to see our Best practices Guide to Launching your Members Only Area.
What do they see?
While each Members Only Area can be configured differently, generally your members (and any Profile you give a Password to) will see the following areas:
Their Name
This will show which Profile they are logged in as. If they have access to log in as multiple profiles, this will help make sure they are editing the correct one.
The Portal Welcome Message.
You can configure this by going to Admin > Set Preferences > Web Preferences > Portal Welcome Message. It can be text, HTML, pictures, etc.
My Events
This section will list any upcoming event this Profile is signed up for.
Upcoming Events
This section will display any upcoming event in your calendar that you have flagged as a Members Only event.
Recent News
This section will display any News Article that is active for the current date. This section can be configured by MC Trade Support to display only particular event types.
Quick Links
This section displays all the self-service activities a Profile can complete. See below for a more details explanation of each of these features.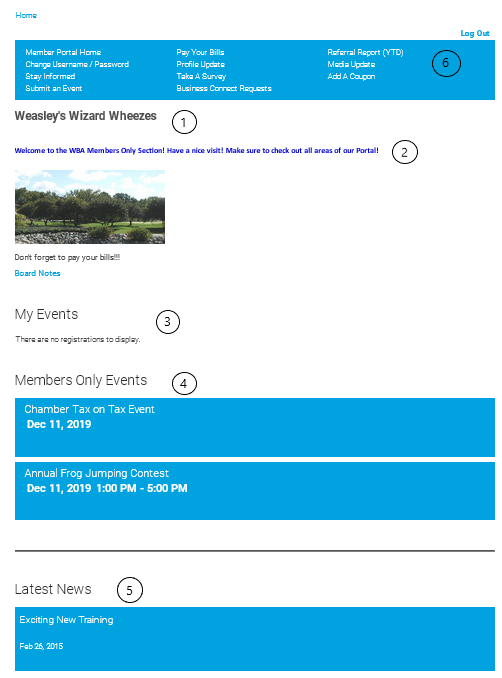 What can they do?
Generally, the Self Service functions of the Members Only Area are displayed on the right-hand side of most pages contained within the Members Only section. Each link has it's own functionality:

Pay Your Bills
This section will display a list of every invoice a Profile has Open with you. Each of these invoices is printable as a PDF, or payable by credit card or check, depending on how you've configured your Payment Gateway. Before you introduce your Members Only Area, make sure you review our Best Practices Guide.

Referral Report (YTD)
This section runs a detailed Referral Report, which shows your Profile a very granular report of every time they've received a Lead or Impression from your website or your staff. This is a very powerful tool that can help immensely with your Retention efforts. You can configure by going to Admin > Set Preferences > Referral Report Settings. Click here to learn more about configuring your Referral Report.

Change Username/Password
This link will allow the Profile to change the Password identified on the Web > Portal tab of their Profile Record. Changes made here are stored to your database immediately. If a Profile ever loses their Password, they can use any of the Password Request links that show whenever they are asked to log in. Please note that at this time, Usernames can not be edited by members through the portal.

Profile Update
This link will open a page that allows them to update much of the information on their Profile, as well as any other Profile they are related to and marked as an Editor for. In this area, Profiles can edit any of the information below that you have allowed them to edit through the Profile Update Form Settings area (Admin > Set Preferences > Profile Update Form Settings). All changes made here will wait for your staff to review, edit or approve in the Profile Update Requests Area:
Name, address and other basic contact information
Directory Listing category and descriptions
Affiliation Codes you have identified as visible to Profiles
Relationships they have to other Profiles (including adding new Profiles they are related to)
Social Media accounts they have


Media Update (Enhanced Listings Only)
The Online Directory can display images and videos on a Member's Listing, if you configure the Listing Level to do so. When accessed, this section of your Members Only area will allow the Profile to upload this media directly to their Profile. If they have the right Listing Level, the images or video will display automatically on their directory listing; if they don't have the right Listing Level it will not appear (but it will be stored in their Profile). You control these Listing Levels in the Online Directory Settings area, and you control the Profile's individual Listing on their profile Record. There is also a Best Practices Guide for configuring your Directory.

Stay Informed
This section displays the Affiliation Codes you have configured to be visible to Profiles so they can opt in or out of any of them. These are the same Affiliation Codes that appear in the Affiliation Codes section of the Update your Contact Info.

Take a Survey
This section will display every Survey you have built in MC Trade that is active for the current date range. Profiles can then complete a survey, with the results being stored inside your MC Trade database. You can build and edit these Surveys by going to Communication > Web > Surveys. Click here to learn more about Surveys.

Add A Coupon
Select "New Coupon" to add any sort of coupon or special offer to members. Coupons will appear on their Directory Listing as well as your overall Coupon Directory. Click here to learn more about Coupons.

Submit an Event
In this section Profiles can submit events that their company is hosting. Once they complete the form and submit, the event will await your edits or approval in the Events > Event Submission Requests area. Click here to learn about accepting Event Submissions.

Business Connect Requests
In this section, your profiles can see any Business Connect Requests that were submitted through the Business Connect Submission form and relate to them. Requests are assigned to Profiles based on the Listing Category the submitted identified on their initial request form.
--------------------------------------------------------------------------------------------------------
This feature is included or available for purchase with the following MC Trade packages.


Watch a Training Video: