Event Attendees can be edited or replaced at any time, before or after the event. Follow the steps below to Edit or Change an Event Attendee. Once changed, all related history for the Event (Fees, CEU's, etc.) will be transferred to the new Attendee:
On the Attendees tab, click the Edit button in the attendee's row. You can begin typing the first or last name of a specific attendee into the Search box and click the search icon to quickly find the specific attendee you are looking for.
Note that you can also click Edit on any registration in the Registrations tab to edit any attendees within that registration.
Each attendee within the registration is listed on the left side of the Edit screen, and you can either scroll or click on any Attendee name to edit that Attendee.
Click in any of the Attendee fields to enter changes to any of the values (phone numbers, custom field values, etc.)
Click Save when finished.
Deleting an Attendee
To delete an Attendee, click the red Remove Attendee button.
To add a new Attendee (if any are available based on the quantity/items selected), click the New Attendee button. The attendees will appear as "Attendee #1" etc. until you enter a first and last name for the attendee.
If a Registration has more than one Event Item available, you can change which Event Item(s) each Attendee is assigned to by checking the check boxes to the right of each Attendee. Be sure you have at least one item selected for each Attendee. You can assign each Attendee to more than one Event Item also, if applicable.
Once all changes have been made, click Save.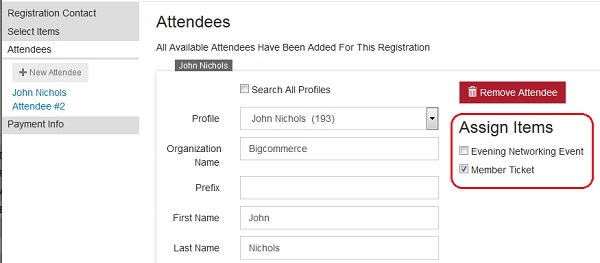 Watch a Training Video: