Your online member referral report has a number of configuration settings that allow you to determine which referrals show, whether they appear as impressions (views) or leads (high-value clicks), as well set a dollar value on each type of referral. To access these settings, go to Admin > Configuration Settings and choose Referral Reporting from the dropdown.

The first section determines whether search index update referrals (or "bot" referrals) should be included in your referral report. If the "Search Index Referrals" check box is unchecked, the report will always load with the search index referrals NOT included. Click here to learn more about this type of referral.
The "Allow Member to Filter Search Engine Indexing Referrals" check box will give your members the ability to choose themselves whether they want to see bot referrals. When they view their referral report, they'll see the option at the top of the report:

The checkbox will be checked by default if you've chosen to display search index referrals in the first setting above, or unchecked by default if you have not. If you'd prefer to not allow your members to view the report differently than your default setting, do not check 'Allow Search Index Referrals."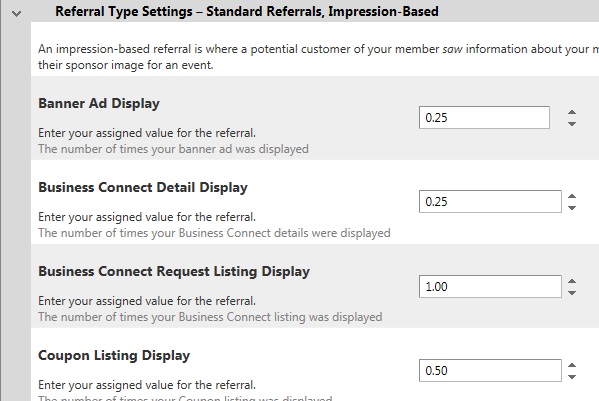 The next section of settings lists all standard referral types that Atlas automatically records, that we consider "impression-based." This means the referral is simply a view of certain data online, usually as part of a list. It includes your online directory result list views. For each different referral type, you can choose a dollar amount that represents the approximate value of ONE referral of that type. For example, if you assign a value of $0.25 to a Banner Ad Display referral type and a member's banner ad receives 100 views in one month, the total value for that referral type for the month would be $25.00.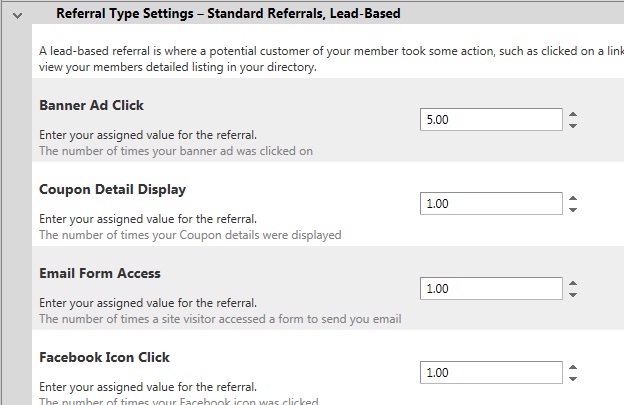 The next section displays the same value settings, but for your lead-based referrals such as banner ad clicks, clicks to view a map or a member's website, etc. These are generally higher-value referrals, and you can assign the dollar amounts accordingly.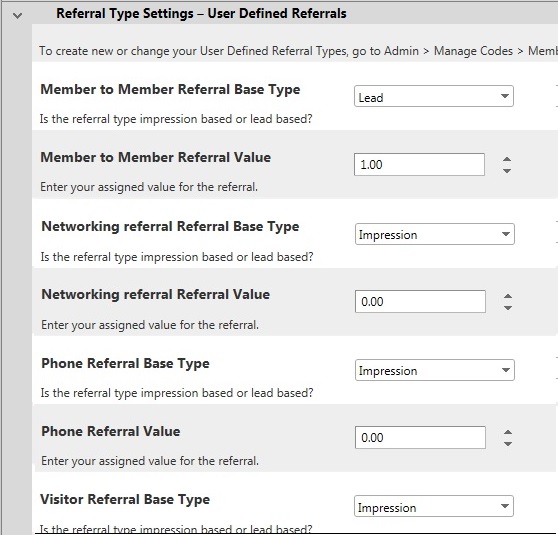 User-Defined Referrals are referral types that you have created and manually record (or record through Front Desk or web content record tracking). You can edit your custom referral types or add new ones by going to Admin > Manage Codes > Member Codes > Referral Types. For each one of these referral types, you can determine whether the referral should count as an "impression," a "lead," or if it should not be included at all in the report - "None." In addition, you can assign a value to that referral type just as you can for the standard referrals. To include these referrals on your report, you must choose either Impression or Lead - just assigning a value while leaving the Base Type as "None" will not include those values in the report.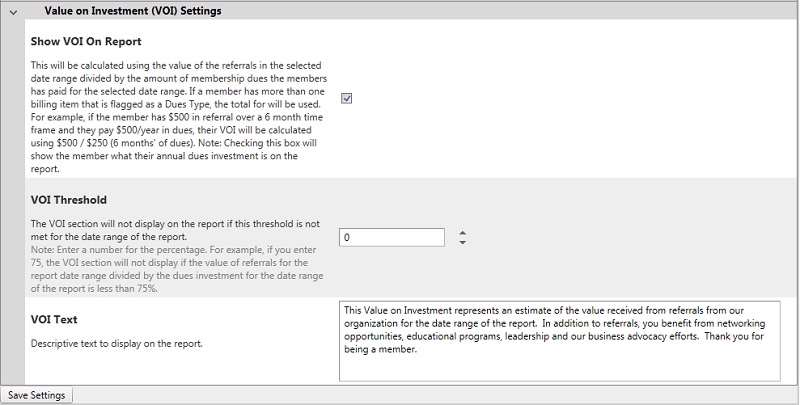 The last section of settings allows you to enable the Value on Investment (VOI) section of the referral report. Once you have set your values in the previous sections, you can enable the VOI display by checking "Show VOI On Report." In addition to the referral values you assigned, the member's annual dues amount will be used to calculate the value they received from referrals as a percentage of their annual membership dues. If they run the referral report for a time period other than annually, their dues will be prorated to the time period they do select.
In the VOI Threshold, you can determine a percentage below which the VOI section will not display. This is set to 50% by default, but you can change it to any percentage. If the member's VOI calculates to a number lower than your threshold, they will not see any information on VOI at all.
The VOI Text is an opportunity for you to explain the VOI section to your members further. You can enter any text into this section and it will appear on the referral report beneath the calculations.
Looking for Recommendations about how to Value your Referrals? Click here to see our Best Practices Guide.