Online prospect forms are used for automatic account creation in your system. You can set this up as a very brief "request for info" style form, or you can collect a wide range of profile info for instant access and automated data flows eliminating manual data entry.
To create a prospect form, go to Communication > Form Builder, and select Create New Form, then choose Prospect Form from the dropdown.
Enter the title for this particular form, which will appear as the page title when viewed on your website. Note that you can create multiple prospect forms, so unique titles is an easy way to identify them.

Click Form Settings. A window will launch with several settings to configure the way people can interact with the form. Note that in Prospect forms, a new profile is always created automatically in your system (or multiple profiles, depending on the elements you add to the form). Login is never required, as the intention of this form is new account creation.



You can choose who the submissions/invoice will be associated with, the profile submitting the form or the related organization of the profile submitting the form. Submission/Invoice would include invoice, affiliation codes, listings, custom fields, and other elements will all be associated with the profile you select here for any user submission.

If you would like to tag any profiles that submit this form with a specific Affiliation Code, begin typing the code name into the box shown below. Each affiliation code will be applied to the new profile on submission. Creating an Affiliation Code such as "Source - Interest Form" is a good way to easily pull lists based on the source of the prospect.
Finally, enter any email addresses to receive a notification when this form is submitted. You can also add custom text to the form confirmation page and the email that will get delivered to the new profile on submission.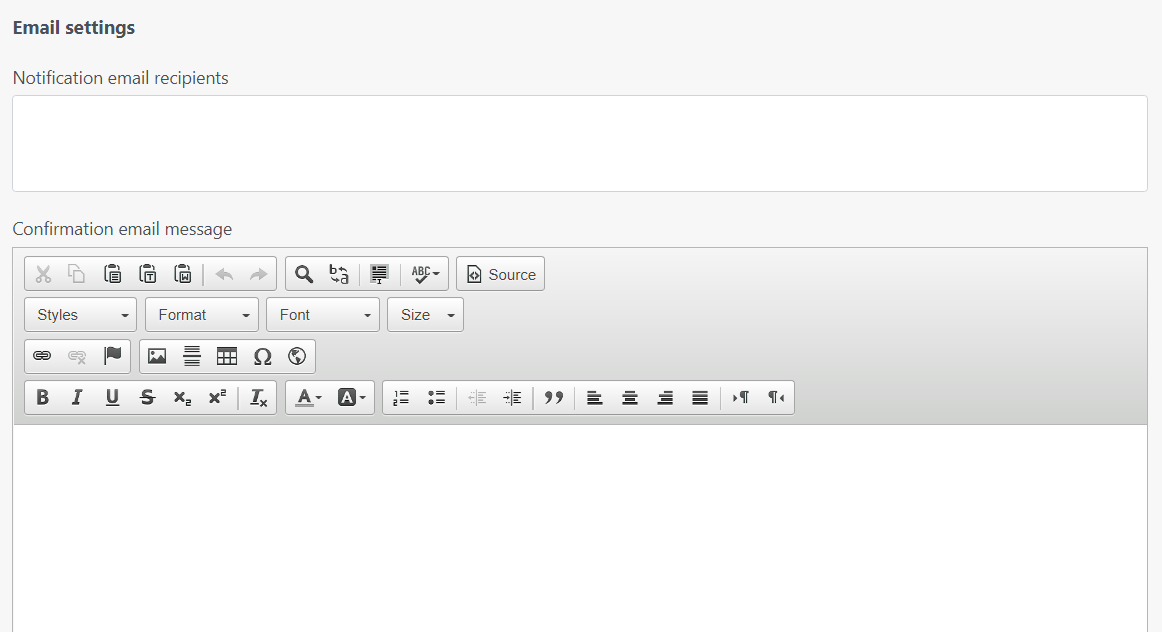 Click Done. Note that the form is not saved until you click "Save" at the bottom of the page, which is recommended in order to create the form after entering a title and your settings.
Once the new form is created, you can start adding elements. You can remove any of the existing element using the "Remove" button that appears when hovering over each element, or add new elements by clicking "Add New Element" in any location throughout the form or using the button at the top left.
Prospect Forms allow you to add the following elements:
Header: a larger, bold section of text that can be used to differentiate separate sections of the form
Text: a basic HTML text block in which you can include instructions, disclaimers, etc.
Organization profile: allows you to collect organizational contact information for the prospect profile
Individual Profile: this will be created as the main contact of the organization profile, and you can collect personal contact information through this element
Custom Field: choose from any of your already-configured custom fields, which will populate automatically into the prospect profile as it is created
Affiliation Code: select any affiliation code to appear on the form as a checkbox selection, such as opting in to certain mailing lists or areas of interest. You can add any number of affiliation code selections
Listing: while a prospect profile will likely not appear on your directory automatically, collecting their category listing information can be useful data in encouraging them to become a member
Social Media: collect any social media links for the prospect profile to be automatically stored on the profile for contact or future listing information
Upload File: if you need to collect any sort of documentation from the prospect to store in your system, you can allow them to upload a file of any standard image or document type. After submission, you can view the web content record on the profile that is created or linked.
Open Field Entry: this allows you to ask ad-hoc questions that are not stored in the created or existing profile, but are instead only accessible when viewing or exporting the submission list. You can choose an open text entry, a dropdown of selections, or a multi-select set of checkboxes.
Form Submissions:
Once the form has been created (don't forget to hit Save at the bottom to save all of your changes), you can view the public form by clicking "View Prospect Form" in the upper right corner. You can also copy this link to use in your web menu, content, emails, or any other location where you'd like to link to the form.
Upon submission, a prospect profile will be created in your system, along with a related profile if you've included both organization and individual profile elements on your form, and a notification email will be sent to the emails listed in the Form Settings. You can view these submissions by going to Communication > Form Builder, then clicking the hyperlinked Submission Count in the grid for that form.