When setting up a Revenue Item for use in invoice line items throughout Atlas, you can indicate a "number of days" for the default service period to use for a line item.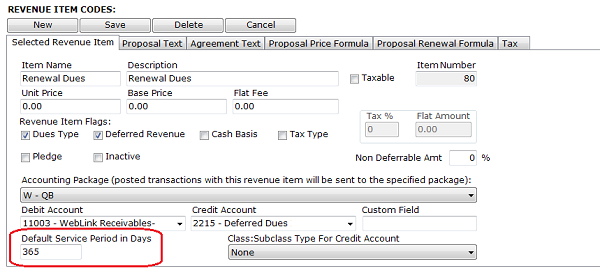 Currently, there are only two places that the default service period is used automatically during invoice creation:
1) Creating a New Member: using the Add a Member process, if you add a new invoice in the final step of this process, the line items that get created will default to the start date of the current date, and the end date based on the Default Service Period Days entered into the Revenue Item for each line item.
2) Accepting Web Input Forms: if you have a member application or other online form that you use to create/assign profiles and generate an automated invoice and payment, the line items will use the Default Service Period calculated from the current date.
Please note that generating invoices through the Auto-Generate tool will always use the Billing cycle to determine the service period, and manually creating an invoice will default to the current day for both the start and end date on the service period and must be set manually. Those two methods of creating invoices will not refer to this Default Service Period field on the Revenue Item.