Once you have configured your Informz integration, the system will sync your profiles and Interest lists with your Informz subscribers, as well as populate Contact records and Unsubscribes (Do Not Email flags) in MC Trade automatically once each night. If you would like to manually push the data at any time, you can do so in the Mass Communicator in MC Trade.
Go to Communications > Send Mass Communication in the MC Trade SmartClient.
Click the Informz Manual Sync tab.
Select one or more Affiliation Code lists in MC Trade to sync with Informz. All profiles that belong to the selected Affiliation Codes will be added as subscribers in Informz, and if the Affiliation Code is an "Interest" in Informz the subscribers will be added to that Target Group.
Select a date range for which profiles to include in the list for Informz. Because the list will be fully replaced on the Informz side when you run the sync, it is recommended to use 1/1/1900 as the start date to ensure all profiles are included, unless you have received a custom workflow from MC Trade that indicates otherwise.
If the lists you are syncing should also include profiles that are main contacts or marked to receive communication on behalf of the profiles that actually have the affiliation code, be sure to check the appropriate settings checkboxes for either or both of those options.
Click Sync Lists with Informz. The sync will run in the background, and you will be notified via email when the sync is complete with the results of the sync.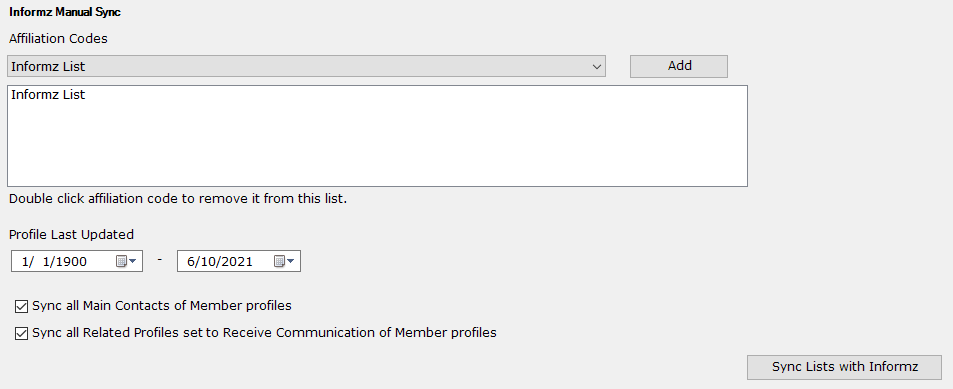 Note: to run the manual sync from your machine, the IP address from which you are accessing the Internet will need to be safelisted by Informz. You can determine your IP address by googling "What is my IP" and contact your Informz representative to safelist that IP address.