Informz (Now Higher Logic Thrive Marketing Professional) users can set up an integration with MC Trade to sync profile data to email lists in Informz, as well as pass email communication records from Informz into profile Contact records in MC Trade. The sync can happen manually through the Mass Communicator and is also scheduled to occur automatically once each night. Note: even if you are already an Informz user, you will need to contact your Informz representative to ensure you have API access to pass this data between systems and allow them to safelist the IP address you will be syncing from.
How do I enable this integration?
In MC Trade, go to Admin > Global Settings > Integrations > Email Providers. In the Informz section, enter your administrative username and password, and your account's Brand ID. Select the member list(s) you want to sync, and choose the Contact Type you want to use for the contact records created through the sync. Once this information has been entered, the sync will take place once each night automatically (a member list and contact type must be selected). In addition, the Mass Communicator will have an Informz tab enabled for you to complete the sync - click here for more details on running a manual sync. Note that before you attempt a manual sync you will need to contact Informz to provide your IP address so the sync is not blocked.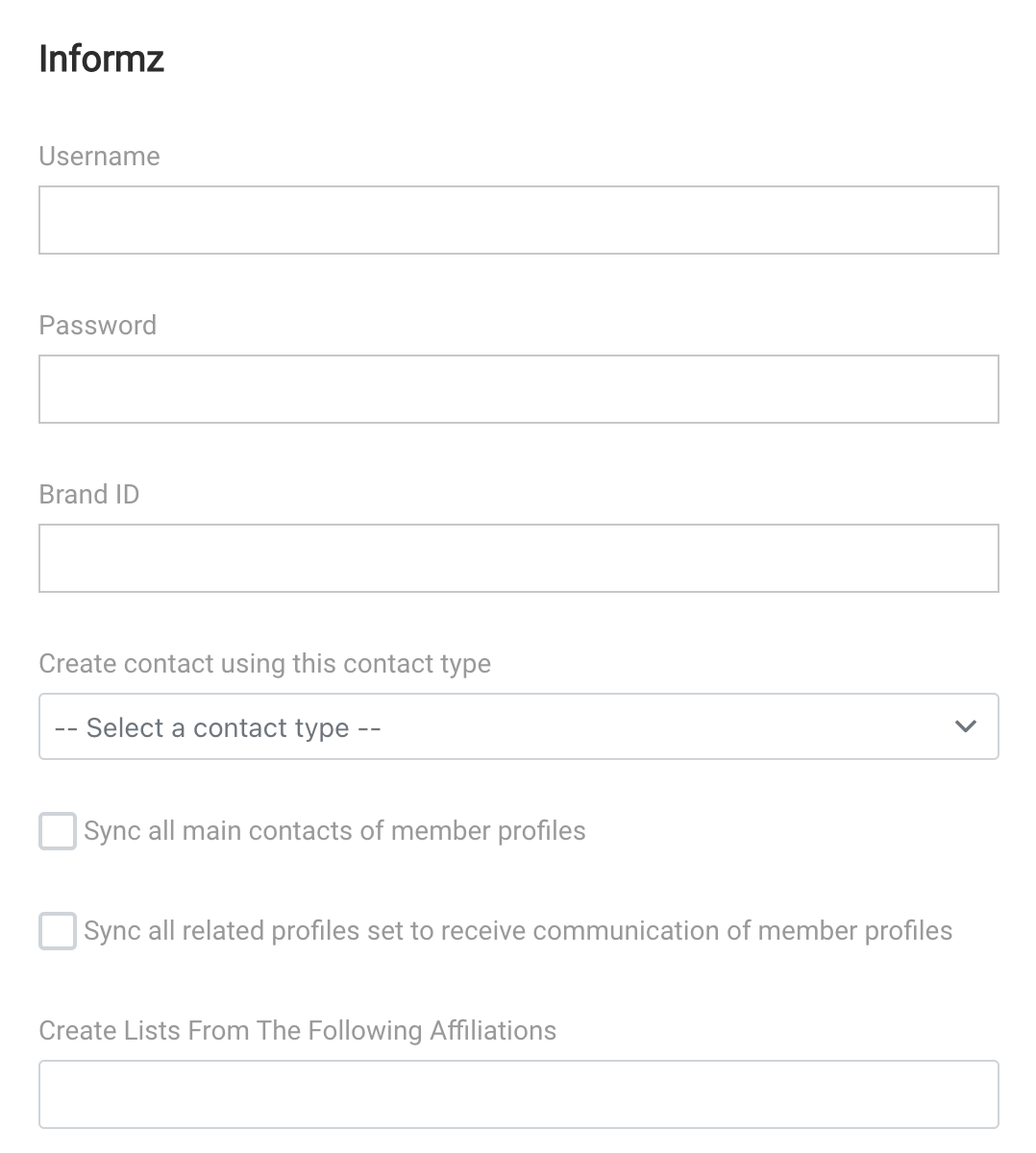 What information is passed from MC Trade to Informz?
In Admin > Global Settings > Integrations > Email Providers, you can enter the affiliation codes from MC Trade that you would like to use to create email lists as "Interests" in Informz. A separate list will be created/updated in Informz for each different Affiliation Code in MC Trade that has been entered for the integration. All profiles that have an email list Affiliation Code will have the following information sent to Informz:
Profile Name
Email Address
Member Since Date
City
State
Zip
What data is passed from Informz to MC Trade?
During the automated sync, email communications that have been sent to the users synced through the integration will be created as Contact records in MC Trade. For each subscriber/profile, a Contact Record will be created with that day's date and the subject line of the communication as the Contact Subject.
Create Contact record on the profile of the subscriber
Contact Type = use type from config settings
Subject = Mailing Name
Contactee = "friendly_from" in Informz for the mailing
Contact Date = Mailing date
In addition, any subscribers who select to unsubscribe from emails through the Informz platform will have their profile flagged as Do Not Email in MC Trade. Profiles flagged this way in MC Trade will not be included in subsequent uploads to Informz.
What Configuration Settings are available in MC Trade?
In the Email Providers tab where the Informz integration is enabled, there are two configuration options:
Contact Type: select a default Contact Type that will be used for all Contacts created through the integration from Informz
Affiliations: enter all of the MC Trade Affiliation Codes to be used to create Interests lists in Informz
----------------------------------------------------------------------------------------------
This feature is included or available for purchase with the following MC Trade packages.