The MC Trade Events Module is a powerful tool for managing every event your association offers, whether it a small training session, a free networking event, or a full Annual Conference.
The Events Module oversees the many important aspects of your Events:
Planning and Logistics
Marketing
Registration
Payment
Website
Settings and Configuration
The following illustration describes how events are configured and built.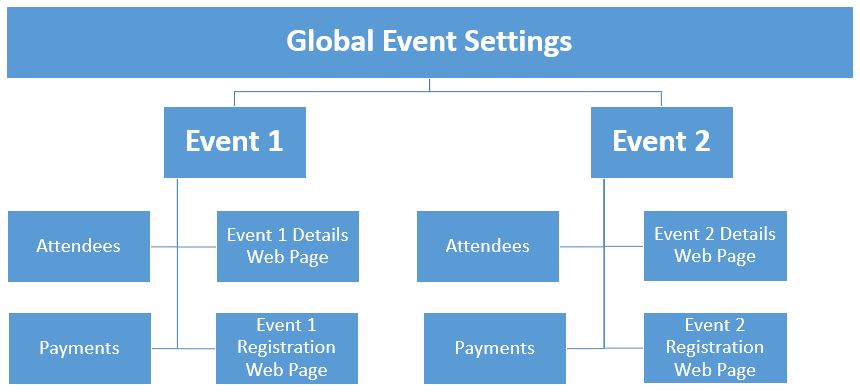 Planning and Logistics
By using MC Trade's Tasks and Projects Module, you can track and manage nearly every activity required to successfully plan and implement your event. MC Trade clients frequently use these features to schedule communications efforts, track time spent by event planners, invite key stakeholders, and stay on schedule as events approach. Project Templates make recurring Events even easier to manage.
Marketing
The MC Trade Communications and Marketing features that work for an event are numerous and are built in directly to the event module. Every event features the same powerful options:
Quickly email all members who have not yet signed up for a particular event
Quickly email all or select attendees and signups
Automatically send registration confirmations and reminders
Use HTML templates for strengthening your branding
Registration
As you create and configure an event, you also decide what the Registration Form should look like for each Event Item you offer. When logged in, a Profile's Contact Info will automatically complete in a registration form. But people who Register without logging in can still be tied to their profile's by you easily. Registration Forms have many options to ensure your attendees have an easy experience signing up:
Each field can be Hidden or Exposed to both the Sign Up, Attendee or both
Each field can be mandatory or optional
Custom Fields can be built and tied to specific Event Items
Payment
Because each event is unique, they each can have their own Payment Options. And by being tied in to your existing Credit Card Gateway, Accounting Package and Reporting, all the money for an event will be tracked seamlessly with the rest of your revenue. Depending on your MC Trade Connect Package, The Event Module also offers several beneficial payment options:
Credit Card, Check or Invoice Me options for each event
Distinct Payment methods for each event item
Members Only and Group pricing and Payment Options
Real-time Credit Card processing
Automatic Email Receipts
Saved Credit Cards
Promo Codes and Discounts
Website
As you build your event, MC Trade will build your Event Web Pages, so that your Online Calendar is engaging and always up to day. Your Event Module creates four distinct Web Pages automatically:
Settings and Configuration
As with every MC Trade Module, the events Module can be configured to match your association's unique needs. There are two area of Settings for your Events:
Global Event Settings - These Settings control what items appear on your event web pages, what options an individual has to connect their registration to their employer, and what information is included in your default confirmation message includes. Click here to learn about the Global Event Settings area.
Individual Event Settings - Each event can be configured differently than other events, including the payment methods you accept, the questions attendees are asked, the registration options, who can register, and what info they receive upon registration. Click here to learn about individual Event Settings.